BLOODY THURSDAY
 JULY 5, 1934 – SAN FRANCISCO
Remembering those who gave their lives.
Maritime Strike for improved working conditions and wages.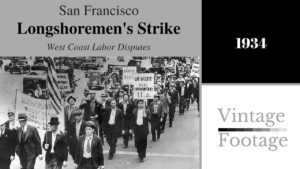 San Francisco's maritime strike, which began May 9, 1934, tumbled out of control when the Industrial Association, made up of employers and business interests who wished to break the strike, and the power of San Francisco unions, began to move goods from the piers to warehouses.The first running battles between unionists and police began Tuesday, July 3, 1934. There was a lull during the July 4 holiday when no freight was moved, but disturbances picked up again Thursday, July 5, 1934 – known as "Bloody Thursday."

This is the San Francisco News' coverage of the first day of the rioting – July 3, 1934.

The area where the rioting took place is now the heart of San Francisco's Multimedia Gulch.